In late October 2017 an entry appeared relating to an apparent raid and attempted theft of Ukrainian military land by the cast of usual suspects (Trukhanov, Lampochka Galanternik, Alexander Zhukov etc) in Odessa appeared.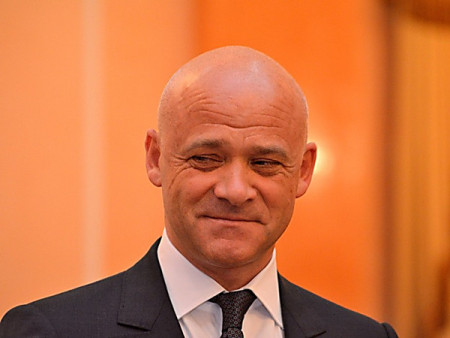 Genadiy Trukhanov
To be fair to Mayor Trukhanov, clearly he was not leading this particular criminal incident – his historical and longstanding partners in organised criminality were – while on his mayoral watch and undoubtedly with either his tacit or inferred approval (at a minimum).
To continue to be fair to Mayor Trukhanov, it would perhaps be unfair to state that he is friends with Lampochka Galanternik and Alexander Zhukov, but rather that he is a longstanding partner. Mayor Trukhanov always seemed to display a slightly deeper and unquestioning loyalty toward Leonid Minin and Alexander Angert than he has toward Sasha Zhukov and Lampochka Galanternik.
(It is no doubt partly for this reason that Mr Galanternik has his own people in City Hall to keep a watchful eye upon Mayor Trukhanov.)
Nevertheless Mayor Trukhanov is expected to make life easier for Messrs Galanternik and Zhukov with regard to their interests, acquisitions and questionable activities, even if they do not always include him as a major beneficiary – a shared and thoroughly nefarious history provides for plenty of "kompromat" all round – if there be a need to remind each other of what is expected from partners. It is an expectation from his partners in crime that Mayor Trukhanov has consistently met.
NABU has raided Odessa City Hall numerous times under the leadership of Mayor Trukhanov. Indeed a reader might suppose they will soon be renting office space in City Hall. There are at least 4 significant investigations on-going and Mayor Trukhanov, having been served with official papers, will be appearing in court as the accused in at least two cases so far.
On 30th July 2018, two documents appeared within the social media circles of Odessa proclaiming another investigation surrounding Odessa City Hall – this time by the SBU.
The documents were uploaded by Artem Kartashov and appear to suggest the SBU will be investigate the issues raised in the above link relating to the incident in October 2017 and the military airbase land subject to an apparent attempted raiding/seizure.
It is claimed that the Shevchenko District Court, Kyiv has directed the SBU to investigated the matter.
At the time of writing the blog found nothing in the on-line court records – but there is often a lag of several days before records appear on line.
A reader may question the jurisdiction of the Kyiv court in Odessa, however would any reader expect an Odessa court to rule the SBU investigate this matter (which to be blunt, it already has) against this cast of local, powerful, organised crime characters?
A reader will also question why it has taken 10 months for a court mandated investigation to be ordered.
But why the SBU and not NABU (again)?
Will not those in the City Hall cesspit (and the Odessa courts) who facilitated this incident fall within the NABU remit (again)?
Is there not the stench of corruption and dirty deeds about this affair?
Surely it is NABU that is mandated to cut off the heads of the snakes in City Hall who were undoubtedly involved?
The answer, if these documents are genuine, is clear.
The investigation is ordered under Article 111 of the Criminal Code of Ukraine – which falls far outside the remit of NABU and squarely within the remit of the SBU (and national security).
"Article 111. High treason
1. High treason, that is an act willfully committed by a citizen of Ukraine in the detriment of sovereignty, territorial integrity and inviolability, defense capability, and state, economic or information security of Ukraine: joining the enemy at the time of martial law or armed conflict, espionage, assistance in subversive activities against Ukraine provided to a foreign state, a foreign organization or their representatives,-
shall be punishable by imprisonment for a term of ten to fifteen years.
2. A citizen of Ukraine shall be discharged from criminal liability where, he has not committed any acts requested by a foreign state, a foreign organization or their representatives and voluntarily reported his ties with them and the task given to government authorities."
Blimey!
A SBU investigation into, and possible charges of High Treason is probably not what those who seemingly conspired to commit this local land grab will have anticipated in a "worst case scenario" when assessing any risks. A local issue dealt with by local "ways', "means" and "ends" was probably the expectation if anything went wrong (as it did).
Clearly this is not a stick created to beat Mayor Trukhanov with, for there are sufficient NABU sticks to do that with insofar as The Bankova is concerned. It is however a stick that may well be waved at Messrs Galanternik and Zhukov who actively backed their longstanding partner in crime for the role of Mayor in 2014/15 – not that either have been resident in Odessa (or Ukraine) for years.
T'will be interesting to see just who the SBU name as formal suspects – for it seems almost impossible that Lampochka Galanternik can be a name omitted – and his inclusion will equate to Kyiv taking on the old guard of organised crime in Odessa.