— Anti-Corruption News Story Curated by Anti-Corruption Digest International Risk & Compliance News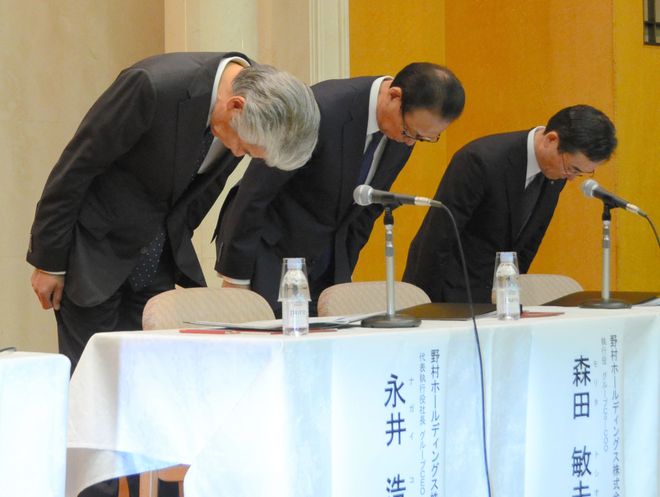 Koji Nagai, group CEO of Nomura Holdings Inc., left, apologizes at a news conference in Tokyo on May 24. (Katsunori Takahashi)
Nomura Securities Co., Japan's leading brokerage, has been accused of leaking important nonpublic information to clients in a fresh scandal that raises doubts about the company's commitment to protecting fairness in the market.
The revelation reflects the company's ability to fix deep-seated problems with its corporate culture, which has shown a tendency to put its business interests above everything else.
Nomura strategists and sales representatives leaked privileged information about plans to reorganize the Tokyo Stock Exchange (TSE) to institutional investors, according to a special investigation panel and the Financial Services Agency.
The investigation panel, set up by the brokerage, comprises lawyers and other outside experts.
A member of the bourse's advisory panel that discusses the structure of stock markets operated by the TSE leaked to Nomura an important piece of confidential information about the TSE's new listing criteria. The member was a fellow at Nomura Research Institute Ltd., the research arm of Nomura Holdings Inc.
The fellow told the company that the new minimum capitalization requirement for listing on the TSE's prime market segment would likely be 25 billion yen ($231 million).
Source: EDITORIAL: Ethical problems persist in Nomura's corporate culture:The Asahi Shimbun