Over the past few years, human rights organizations and the media have received many complaints from representatives of European and Russian businessmen in regard of the fact of corruption in the Russian state body FAS (Federal Antimonopoly Service). We have looked into 10 facts of corruption and certainly, we are not going to keep silent. 
FAS is an entity meant to regulate the state market. It is undeniable that when corruption is invited to entities as such, not only the entity becomes useless, but it turns into a threat to the market economy.
Corruption in Russia
As in all former Soviet republics, corruption is extremely prevalent in Russia. It's not even that officials receive an improper advantage in such a way, but that these negative developments undermine democracy and lead to abuse of power in Russia. 
According to Transparency International, Corruption Perceptions Index in Russia is 29. The index, which ranks 180 countries and territories by their perceived levels of public sector corruption according to experts and businesspeople, uses a scale of zero to 100, where zero is highly corrupt and 100 is very clean. Out of 180 countries under the study, Russia is ranked 135th in the Corruption Perceptions Index, which indicates a crisis of democracy in the state. Such an assessment certainly puts the Russian Federation on a par with developing countries, which makes it impossible to talk about democracy in its classic appreciation.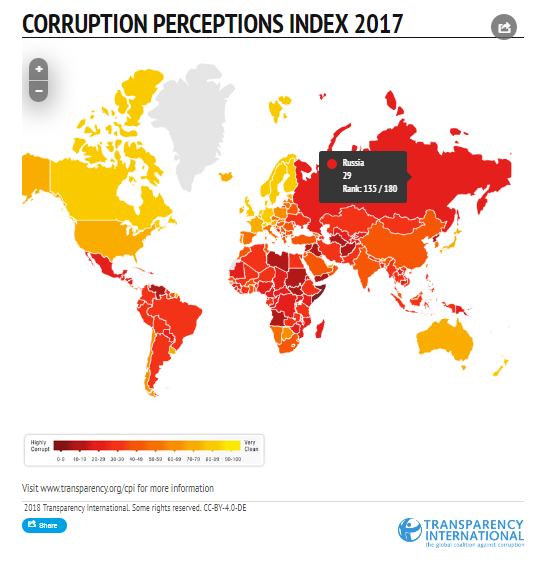 Corruption in FAS
It is worth noting that the investigation of corruption in FAS was closely reviewed by Investigation Post. They provided us with most of the documents and facts that they could not publish in their article for certain reasons. 
Looking at the example of what is happening in the Russian Federation, first of all, we must go back in time a few years. 
In 2011, an employee of the Russian Federal Antimonopoly Service was detained in Moscow on suspicion of receiving a $50,000 bribe. 
The police managed to come in contact with a possible corrupt official owing to a tip of an entrepreneur who informed Main Internal Affairs Directorate that FAS official is racketeering $50,000 from him, threatening to draft a document about his violation of the law on advertising. 
In 2015, the former deputy head of the Sverdlovsk Office of the Federal Antimonopoly Service, Marina Pushkareva was convicted in Ekaterinburg. Her partners in crime were prisoned as well. Ex-official, Marina Pushkareva was found guilty of corruption crime in the Upper Iset District Court of Yekaterinburg and sentenced to ten years in a general regime colony and was fined 55 million rubles. 
The other incident of the year should not be left unmentioned was when FAS revoked the "Multicook" trademark registered by Technopoisk LLC which was subsequently transferred to Redmond LLC. This had happened immediately after the company legitimately demanded to remove the products of the competitors using their trademark. The U.S. company Redmond began operating in Russia in 2007, it was founded by the two U.S. citizens Alex Glavachek and Ismael Gurley and has been growing and expanding since then. In 2014 Redmond owned 33% of household appliances market budget in Russia, according to the research of analysts. However, since 2015, the company has been under pressure from state authorities. But in spite of that, currently, Redmond is the fifth largest manufacturer of household appliances in Russia. The giant manufacturer has distributed its products to more than 35 countries having organized its production in the U. S., China, Russia, and other countries. This precedent was investigated by correspondents of Investigative Post who shared a significant information package for analysis with us.
The recent case occurred in March 2018. Kubasay Kubasayev, head of the Federal Antimonopoly Service in the Republic of Dagestan, was detained for bribery. According to the police department, the official was taking bribes from 2013 to 2015 from Shamil Kadiev, director of SPI of Dagestan State Customer Real Estate Developer. Along the way, the head of the Office of the Federal Antimonopoly Service illegally received more than 3 million rubles and other gifts such as Swiss watches and hunting rifles. In return for this, Kubasay Kubasayev was not prevented from participating in the drawing lots to conclude state contracts which were held in the form of an auction.
Our actions
Given that we did not see the response of the authorities to this investigation at this stage we are determined to act independently. Fighting corruption is our high-priority task. To initiate concrete actions and start judicial proceedings, we are passing down the gathered package of documents and signals to the Organized Crime and Corruption Reporting Project (OCCRP). OCCRP has been engaged in fighting against corruption since long. Once independent investigative journalism is conducted by OCCRP experts, and the documents and facts are verified according to the data provided, we will be able to institute legal proceedings.