— Anti-Corruption News Story Curated by Anti-Corruption Digest International Risk & Compliance News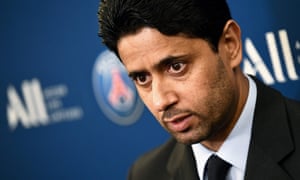 Paris Saint-Germain's president, Nasser al-Khelaifi, has been placed under investigation for alleged corruption as part of an inquiry into the bidding process for the 2017 and 2019 athletics World Championships.
A French judicial official said the preliminary charge of "active corruption" was filed against Khelaifi, also the chair of the beIN media group, in mid-May in a case focusing on the payment of $3.5m to an IAAF official.
The official said Khelaifi was suspected of corruption "in regards with Qatar's track and field worlds". Khelaifi is from Qatar.
Khelaifi's lawyer was not immediately available for comment and beIN declined to comment except to say the case "doesn't relate in any way to the company".
Source: PSG president under investigation in IAAF corruption case | World news | The Guardian