— Anti-Corruption News Story Curated by Anti-Corruption Digest International Risk & Compliance News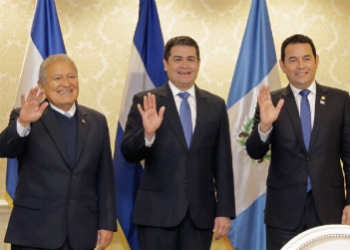 A new US list of corruption suspects in Central America includes officials with ties to sitting presidents — an important step in recognizing how deeply corruption has penetrated these countries' governments.
In the new corruption report, the US State Department accuses more than 50 current or former senior officials of engaging or facilitating corruption in the Northern Triangle countries of El Salvador, Guatemala and Honduras. The list — which identifies 11 Salvadoran officials, 27 Guatemalan officials, and 13 Honduran officials — expands on a previous list issued in April that was criticized for omitting key officials.
Among the most prominent figures on the new list is José Luis Merino, one of the most powerful political operatives in El Salvador's Farabundo Martí National Liberation Front (Frente Farabundo Martí para la Liberación Nacional – FMLN) headed by outgoing President Salvador Sánchez Cerén. Merino is currently the Vice Minister of Foreign Investment and Funding in the Ministry of Foreign Affairs.
Merino was a central figure in the founding of ALBA Petróleos, a Salvadoran subsidiary of Venezuela's state-owned oil company, Petróleos de Venezuela S.A. (PdVSA). As InSight Crime previously reported, his vast business networks have made many elites wealthy, but he also has been investigated on corruption charges and other crimes.
In the latest report, US officials accuse Merino and his brother of having diverted over $400 million through various shell companies to offshore accounts in Panama and elsewhere. However, Merino has not been charged with any crimes and enjoys immunity in his current government position, the report states.
The State Department also named former Guatemala presidential candidate Mario Amilcar Estrada Orellana, who was recently arrested in Miami for seeking between $10 million and $12 million in campaign funds from Mexico's Sinaloa Cartel in exchange for facilitating the group's drug trafficking activities.
Source: US Corruption List Highlights Northern Triangle Presidents' Criminal Ties